TODAY: We are now in the fourth generation of showing livestock and the value of 4-H and FFA rise as pivotal importance for the success of agriculture both locally and globally. One of the key methods that we follow to support our youth is through livestock showing. We believe in helping young people experience the lessons learned about life and cattle production through showing livestock. The summer showing program that Wyatt runs through the Winner Ag program and FFA chapter certainly has allowed more kids to experience these lessons. In addition, DeJong Ranch has been strong supporters of Jr. Breed Associations, 4-H, and FFA at the local, state, and national levels. If anyone is wanting to get their kids involved, we are always ready and willing to offer any help and support that we can.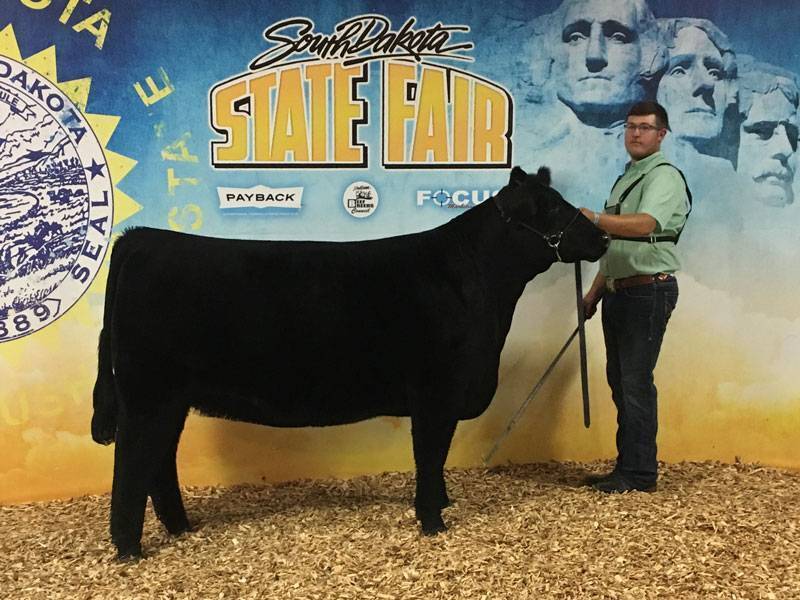 Congratulations
Sam Hossle
DJ Dori D635 – ½ Maine-Anjou
GVC Reprint x DE U92
Supreme Champion @ Central States Fair
Reserve MaineTainer @ SD Summer Spotlight
Champion Breeding Heifer @ Mid-Dakota Fair
---
HISTORY: DeJong Ranch began with emphasizing the role of family and continues to see the importance of investing into our youth. Miles and Kim made the decision many years ago to homeschool all four of their children through the end of their 8th grade year. This allowed the family to grow stronger in their bonds toward each other as well as grow in their knowledge and experiences together. In fact, educating young people has been a key element for the DeJong family as Kim has been a Sunday school teacher, a 4-H leader, the SD Junior Maine-Anjou director, and most recently started a program in the Winner community called Bible Buddies. This program had 2nd through 5th grade students all day on Fridays that the Winner School District didn't have school; the Winner School District operates on a four day school week. Kim organized this with the aid of a few other ladies from the church and they did it for four years.
In addition to Kim being an educator her whole life, Tina graduated from the University of Sioux Falls with a Mathematical Education degree and coaching endorsement. Tina taught math in the Winner School District in the high school for four years; in her fourth year, she was awarded as Teacher of the Year. Also in that time, she was the head cross country coach, assistant track coach, and the advisor for the student council. Tina then made the decision to follow God's call to Asia to work as a missionary's assistant while teaching at an international school. Tina is the oldest of the DeJong kids and certainly carried on the family tradition.
Tara and Katrin have also carried on the tradition of education as they are both homeschooling their young children. Tara's husband, Adam, works as a Chemistry professor for the University of Sioux Falls and Katrin's husband, Kevin, is on the home place at DeJong Ranch continuously working to find better ways of improving cattle nutrition, land production, and sustainable practices.
Wyatt was very involved in FFA while in high school and college and it was during his time as a state and national FFA officer that he found his passion for agricultural education. Wyatt has been the Winner AgriScience instructor and FFA advisor since the summer of 2014. In the summer of 2015, with the help of the Winner School District, Wyatt started a summer class where students would enroll and have to have 40 hours of classroom instruction over beef cattle production and also log 60 hours of guided hands-on work with a beef heifer that was raised by DeJong Ranch. We had 13 kids complete the program which means that they all completed the 100 hours, exhibited their heifer at the county or state fair, and also had to go through an interview by a local veterinarian and beef producer where they had to answer questions about the raising and management of beef cattle. This project has continued in the summer with the class changing its species emphasis. In addition to the summer class, students that aren't able to commit to the 100 hours but have completed an animal-based course from Wyatt are able to lease a livestock project that is housed at the Red Barn just west of Winner. The pictures along the side of this page are taken from students and FFA members that have taken part in the summer programs. Wyatt also met his wife through an AgriScience teacher conference. Zana has been an Ag teacher in Kansas and continues to help the Winner Ag Program and FFA chapter grow in quality and quantity.